Genmaicha tea is a unique Japanese green tea with rice grains. Let's discover together its history, its characteristics, its properties, and let yourself be seduced by its taste and its round aromas. Which is good news, because it can be enjoyed all day long! We'll help you make up your mind about this very special green tea.
Genmaicha tea, a green tea from Japan with multiple benefits
Genmaicha tea is a green tea of the sencha or bancha type - two varieties of tea that are very popular in Japan, their country of origin - to which grains of rice have been added, preferably brown rice (for its nutritional qualities, which are superior to white rice). In most recipes, it is a mixture of roasted rice grains and puffed rice grains, the latter of which may have slightly popped, earning genmaicha the gourmet nickname of "popcorn tea"!
Why a sencha or bancha tea base? Simply because the Japanese grow almost exclusively green tea! And Sencha and Bancha are among the most consumed teas in Japan. It is this green tea base that contributes to the health benefits of Genmaicha tea.
What does Genmaicha tea taste like?
Known for its unique taste, once brewed, Genmaicha tea takes on a characteristic pale yellow colour. It has a very mild aroma, with the rice grains balancing the slight astringency that green tea alone can have. Many people find it has nutty notes and a delicately sweet taste from the delicate caramelisation of the puffed rice. The green tea gives it a very fresh scent. Its taste is warm and reminiscent of coffee due to the roasting of the rice grains.
Origin of Genmaicha tea: the legend of this green tea tells…
There are two opposing versions of the history of genmaicha tea, but whatever the reality, they are both fascinating to discover! The oldest version says that genmaicha tea was invented by chance several centuries ago by a samurai's servant. He used to drink a cup of tea before a fight. One day, his servant accidentally dropped some rice in it before bringing it to him. Mad with rage, the samurai punished the poor man, whose name was Genmai, by cutting off his head. Then he tasted the tea, which he found absolutely delicious. He then named the new recipe "genmai cha", Genmai's tea, in honour of his servant.
Another story suggests that the invention of genmaicha tea is much more recent, dating back only to the 1920s. It is said to have been invented by a Japanese merchant in Kyoto who, on the occasion of the New Year, added pieces of roasted rice cake - a traditional pastry of that time of year - to the tea he was selling, in order to enrich it. His new recipe was so successful that it became popular and widespread. First among the less well-off (rice being cheaper than tea), then among all strata of society. Note that literally, in Japanese, genmaicha means "brown rice tea".
The benefits of Genmaicha tea
Genmaicha tea is made from green tea and rice and is said to have health benefits. Starting with its positive action on digestion and the immune system, and its antioxidant and detoxifying properties due to the presence of polyphenols (catechins). It would therefore help to fight against damage caused by free radicals and cellular ageing. It is also rich in minerals such as copper, zinc, manganese, selenium, phosphorus, magnesium and vitamins. Like other green teas, it facilitates elimination and improves blood circulation.
In addition, its low caffeine/theanine content makes it suitable for consumption in the evening and is a good alternative for people who want to reduce their coffee consumption. The presence of theanine makes it a relaxing anti-stress drink.
Would you like to know more about it? Kusmi tells you more about the benefits of green tea.
For more benefits and flavour, opt for organic Genmaicha
The organic label guarantees superior quality due to the numerous quality controls that are carried out during the production and processing of the product. An organic Genmaicha tea will therefore be of higher quality than a conventional tea without this label.
Some Genmaicha teas are even fortified with matcha, a ground green tea powder with a unique taste. A very interesting blend in terms of taste!
How to prepare Genmaicha tea?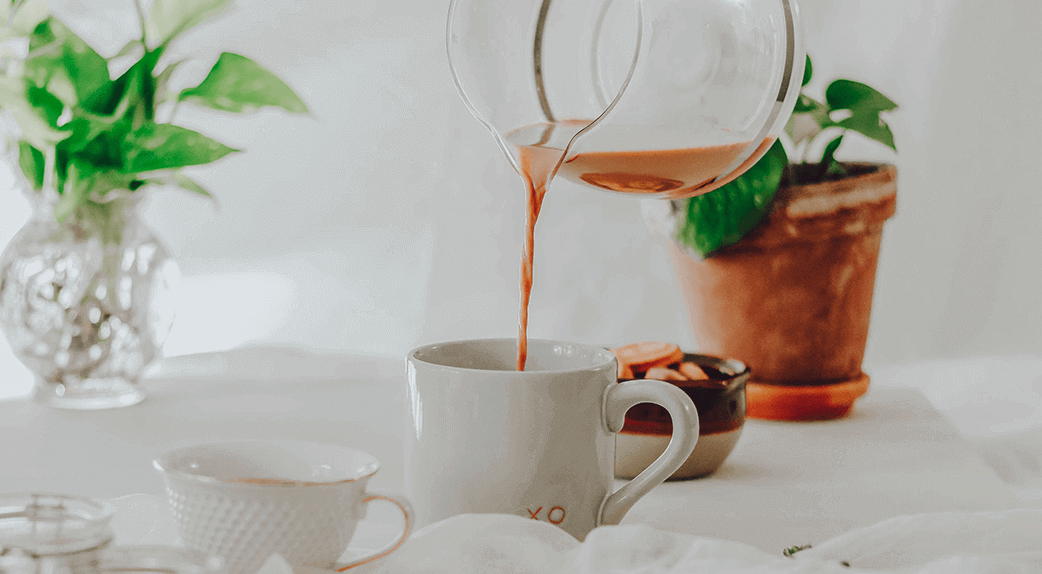 To enjoy a quality Genmaicha tea, Kusmi recommends heating your water to a temperature of 80°C. This will avoid any bitterness during the tasting. Then let your tea (bag or loose) steep for a maximum of 3 minutes. Do not boil the water during the preparation process, as this may cause the tea to lose its benefits and taste.
Another advantage is that genmaicha tea is absolutely delicious in an iced version. A godsend as summer approaches! As a reminder, here are Kusmi Tea's tips for preparing an excellent iced tea. Enjoy!
HOW TO MAKE AN ICED GREEN TEA?
Step #1 - Pour 60 cl of pure simmering water into your carafe.
Step #2 - Brew a large bag of your iced blend for 7 minutes.
Step #3 - Let the mixture sit for 30 minutes.
How to drink Genmaicha tea?
The good news is that because genmaicha tea is generally made up of 50% green tea and 50% rice grains, it is naturally low in theine, allowing it to be consumed at any time of the day. Because it contains cereals, it is particularly popular at breakfast, as well as with a meal or even as a dessert at the end. It is also common to add a small dose of matcha, the bright green tea powder that is becoming increasingly popular.
Our opinion on Genmaicha tea
Would you like to know our opinion? Don't hesitate to try this tea, which enjoys an excellent reputation in Japan and has many benefits. Low in caffeine, it can be consumed at any time of the day: in the morning, after a meal or in the evening. Good for the digestion, rich in vitamins and minerals and full of antioxidants (polyphenols), its virtues are no longer to be demonstrated. Its unique, gourmet and comforting taste will perhaps find a special place in your heart. At Kusmi, we are fans of this surprising toasted taste in a cup of tea.
Discover also :