While the English are renowned for drinking tea all day long, those further afield hold more to "tea-time" or "afternoon tea". Served at 5 p.m. ("It's tea o'clock!"), it means black tea accompanied by a pastry. And whether you are alone, with family or friends, at the office or at home, we tell you why it's time to adopt the delicious British tea time habit, even more frequently.
1/ Tea time is historic
It is the rich past of the immense British Empire (on which "the sun never set") that explains the British craze for tea. Their powerful East India Company, which orchestrated trade between the Kingdom and its colonies, was responsible for the arrival of tea leaves in Europe. In the 18th century, tea became a symbol of the British aristocracy (who quickly adopted it!), before it became available and popular with the entire English population. Then, by mimicry, it was the aristocracy, first introduced to the taste of tea at the end of the 19th century, before the existence of tea rooms, who especially contributed to making "tea time" known.
2/ The tea time is cultural
From the Queen of England to the working class, the whole of British society has made tea time an institution. "Tea, tea time and tea breaks continue to play an absolutely fundamental role for whole sections of British society" , reports Courrier International. The weekly newspaper also reports that the BBC's decision to "eliminate free biscuits and the use of kettles at staff meetings", "sparked an uproar". During the 1950s, 1960s and even 1970s, British administrations, businesses and hospitals employed "tea ladies", responsible for preparing and distributing tea. They have since been replaced by cafeterias...
3/ Tea time is social
Of course, you can drink your tea alone, at 5 p.m., in front of your computer at the office, but in general, it is about sharing a moment with others. You can invite relatives, friends and neighbours. And it is not as burdensome to organise and prepare as a lunch or a dinner, which would require spending more time in the kitchen. Even better, if you like the idea of ​​having to do nothing, you can go and spend your tea time in a tea room, or in a chic hotel. Plus, some London establishments have made it their specialty!
4/ The simplicity of tea time
Preparing black tea is not very complicated. Just boil some water and then let the tea leaves steep for the length of time mentioned on the box (3 to 4 minutes on average). To keep tea time faithful to the English tradition, we can choose a black tea, often produced in former colonies such as India or Sri Lanka, for example the organic Earl Grey tea, scented with bergamot, organic tea from Ceylon with a rounded chocolate flavour, or organic Darjeeling tea, which grows on a flank of the Himalayas. To help you select the right teas, Kusmi offers a tea-time box including 5 gourmet miniatures and a tea tong (optional).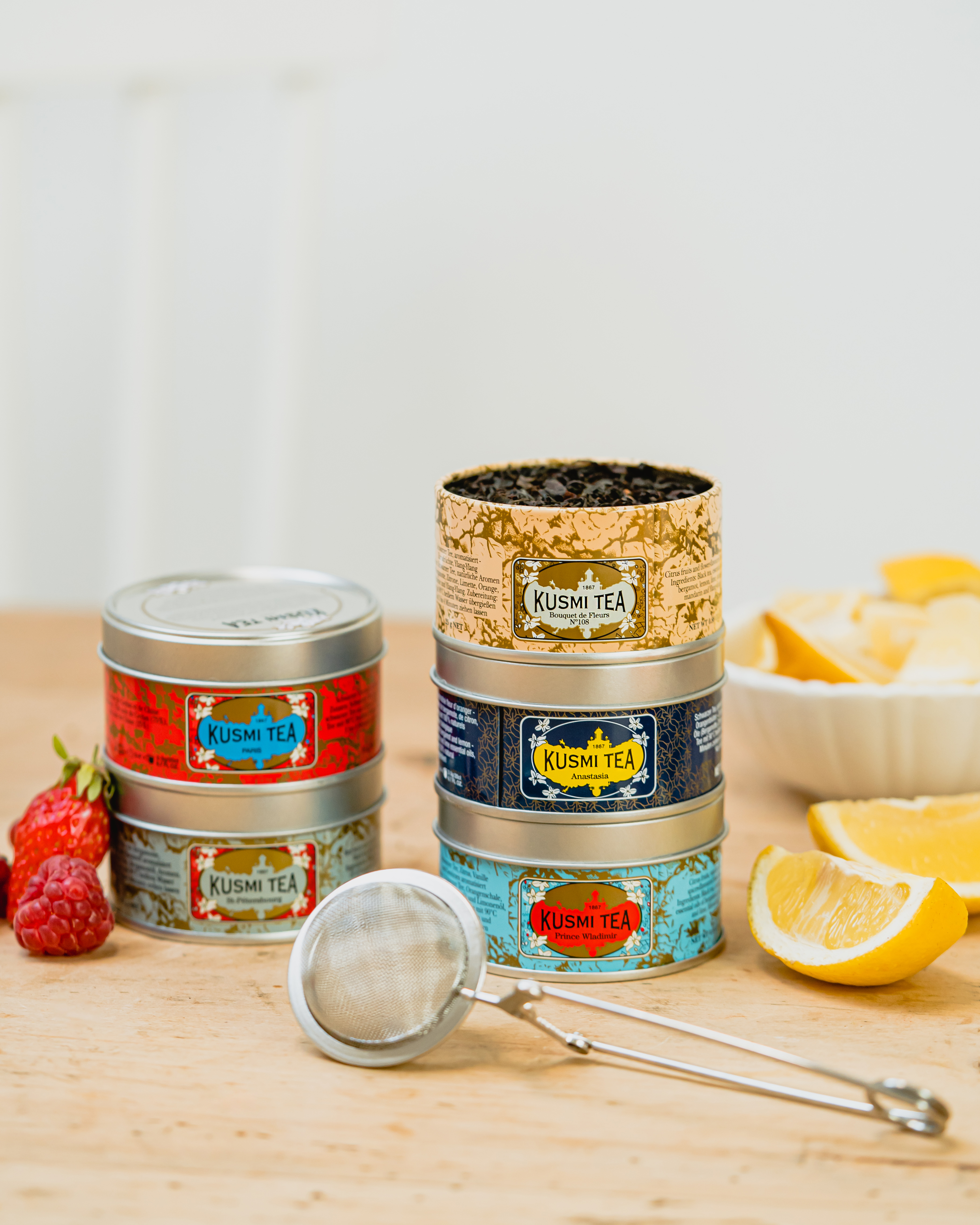 5/ Tea time is a gourmet moment.
Can we have biscuits with the tea? Of course, what's the point of having tea if you can't dunk anything in it?! But, what should we eat with the tea? We saved the best bit for last: now we tell you which biscuits and pastries are best to accompany the tea. To follow British tradition, serve scones. Type of wheat or oatcake thought to have originated in Scotland and eaten with jam. But it can be toast, muffins, crumpets or cakes such as Battenberg (sponge cake with marzipan), shortbread (covered with chocolate and caramel ) or a Victoria sponge, renamed as it was the Queen's favourite cake. Want to give it a twist and add a French angle? Accompany your tea with macaroons, financiers (almonds flavoured biscuits) or madeleines (small sponge cakes). Finally, there is always the savoury option: the British are crazy about small triangular sandwiches with cucumber, eggs or watercress.
And for a calorie-free tea time, head to our

teas and infusions with gourmet touches

. And for the real gourmets among you? Our organic infusion with biscuit notes:

Sweet Break

.