Everyone's talking about... chamomile! Let's find out more about one of the world's best-selling plants – an achievement it owes to all the benefits it offers, especially as an herbal tea.
Spotting chamomile
The plant is originally from the Atlantic coasts of Europe and North Africa. You might have walked past it already without even knowing!
So, how can you spot it next time?
Chamomile is a plant measuring between 4 and 12 inches high. It is comprised of small, thin leaves and single flowers with yellow centers and white flowers, making them look a lot like daisies. It blooms between July and September, which is exactly when you can enjoy the enticing fragrance given off by the flowers. As well making a beautiful bouquet and offering heady scents (sweet and fruity with pineapple notes), there are also many benefits in chamomile tea.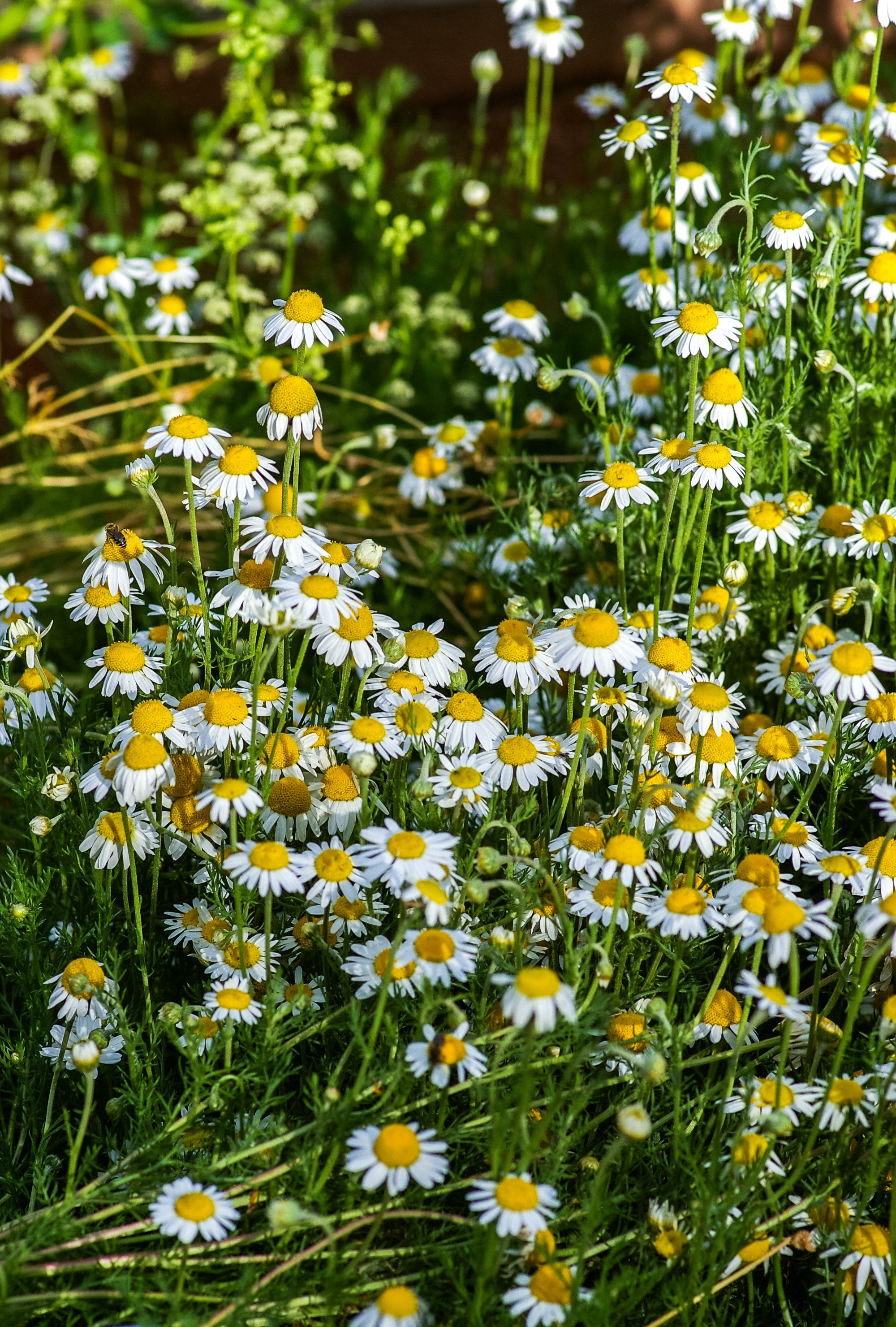 The multiple benefits of chamomile herbal tea
Chamomile has been renowned for its benefits since ancient times. Our ancestors even consumed it for its medicinal properties. Calming, easy to digest, and enjoyable to drink, chamomile really is a multi-faceted ingredient!
The calming effects of chamomile tea
Chamomile tea may improve sleep quality thanks to apigenin, an antioxidant that is said to have a calming effect on the brain, helping to fight against insomnia. Get ready for long nights of restorative sleep!
momile infusion, great for digestion
Some studies suggest that chamomile encourages smooth digestion. Thanks to its anti-inflammatory properties, it may also protect against minor digestive illnesses. Cold chamomile tea can also be used against mouth infections and tooth ache. Say goodbye to ulcers! What's more, chamomile tea is claimed to reduce bloating and stomach ache. With chamomile tea, you can forget about having a loud, rumbling stomach in public!
Your Beauty Ally
Chamomile is also found in a number of beauty products – in shampoos for lightening your hair, and in face creams, masks, and lotions. When used on the face, chamomile may improve skin quality, soothe redness and imperfections, and unify complexions to make them glow even more. And if that wasn't enough, chamomile can also help reduce bags under the eyes! Your chamomile tea can be used to make packs you can apply to closed eyes for around 20 minutes. You can even give yourself a chamomile eye bath to help with conjunctivitis! Of course, always consult your physician before attempting any of these treatments. Read on to learn how to prepare it and take full advantages of the benefits of chamomile tea.
How to make chamomile tea
Follow these simple steps to prepare a chamomile flower infusion:

1. Take bag of dried flowers or put a teaspoon of loose dried flowers into an infuser.
2. Using a kettle, heat 225ml of water until it boils, then stop.
3. Pour the hot water into a mug or any other recipient.
4. Add the infuser or bag of chamomile and leave to brew for 5 minutes.
5. Enjoy on its own or add honey, sugar, milk, fruit, or lemon. Honey will contribute its antimicrobial, antibacterial, and antifungal properties.
Fancy trying this simple recipe? You can now discover our delicious blends that showcase this beautiful countryside flower.