What if this year we made just one good and solid resolution? Take care of yourself! Take time for yourself, eat and drink what you like, get moving, surround yourself with positive vibes... In 2022, Kusmi is not inviting you to detox, but simply to treat yourself to a cup of wellness tea.
You can detox from everything except our organic wellness teas made in Normandy. And that's no lie!
Immune Defence Ritual, the vitamin C cure for the winter.
With Immune Defence Ritual, Kusmi Tea is offering you a 28-day vitamin C cure that you can easily treat yourself to by sampling a bag of organic orange sencha green tea every day, enriched with acerola, one of the richest fruits in vitamin C. This is the perfect way to maintain your immunity and keep your energy and vitality when the temperature is low! How can you balance pleasure and health? Kusmi has managed it!
The Kusmi Tea Detox range: a winning trio after the holidays!
The eldest: Organic Detox.
From the Detox family, I would like... Organic Detox and its green box. A good choice! The green tea and mate base has been enhanced with lemon and lemongrass zest. A tonic organic tea that will make you want to win the game!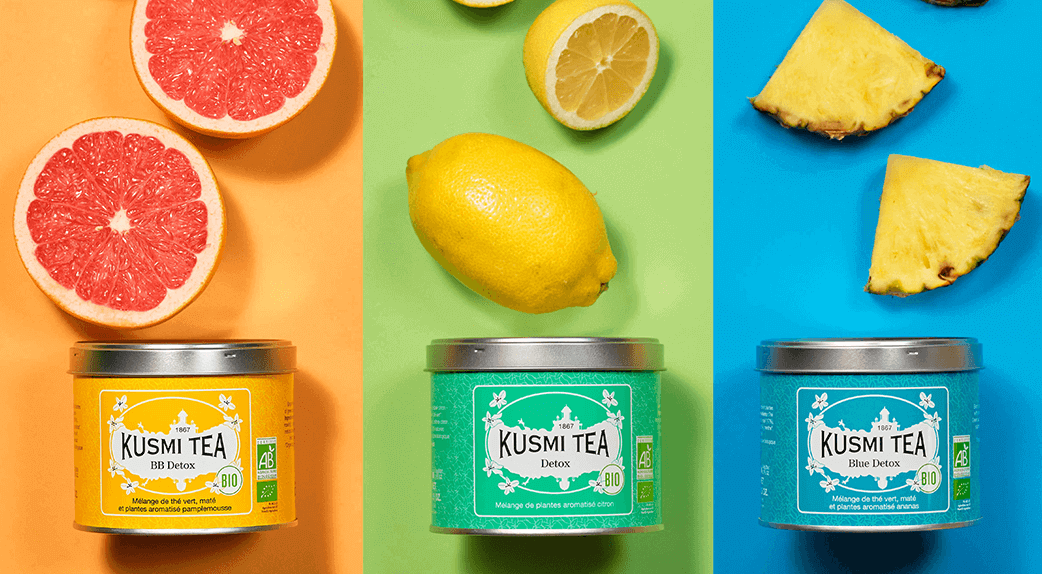 The favourite: BB Organic Detox.
BB Detox is a bestseller in all its glory. Since its release, BB Detox has become the benchmark for wellness teas. In its iconic yellow box, you'll find the irresistible tangy grapefruit, whose fresh zest instantly puts you in a good mood. Guarana seeds add dynamism to the blend, and the tropical notes take you on a journey. Not to mention a bold hint of mint on an energetic mate base.
The most intense: Blue Organic Detox.
This is the latest addition to the family, a tropical blend of green tea, mate, rooibos and pineapple. In its blue box, here is the dreamer of the clan, always in search of distant horizons. Its heart oscillates between the azure of the sky and the turquoise of the ocean. A cup of Blue Detox and you are transported to the heart of unexplored lands where blue is king and tropical flavours are sweet against a background of green tea, rooibos and mate.
The Kusmi Detox range is a family affair... These fresh and fruity triplets invite you to take care of yourself. And because these three organic green teas don't like to be separated, they have been combined in a Full Detox box.