The temperatures are starting to drop and the last bits of your summer tan are fading. All that's left are the photos of your vacation in the sun… but maybe there is something else to help you escape the cold!
We have found the perfect solution for facing the winter with comfort and calm: Chai Latte. At Kusmi, Chai Latte is a cozy blanket for cold, gray afternoons, and above all the break packed with spiced flavors you need. And you have to admit, after seeing it on so many restaurant and coffee shop menus, you're a little curious…
Ready for an adventure? We are going to share a delicious chai latte recipe with you and tell you about the origins of Chai and its properties, while showing you which black tea to make it with. We hope you'll be convinced, and that you will soon be hooked on irresistible Chai Lattes just like us!
Discover our spiced teas and infusions
Preparing the Chai Latte
First of all, you should know that there is no specific Chai Latte recipe. Everyone can adapt it to their tastes. Traditionally, chai is very sweet, and sometimes very, very, (very!) sweet. A little sugar can be used to enhance the flavor of certain spices, so have some fun if you like spiced blends.
The essential ingredients for your Chai Latte recipe
2 spoonfuls of your favorite spiced blend. Tchaï of the Tiger, Kashmir Tchaï or Prince Wladimir

1L water

1 tsp. honey or agave syrup

10cl milk

1 pinch of cinnamon or another spice of your choosing
Step 1: infusing your spiced tea
After choosing your spiced black tea, boil some water and fill one third of your mug to infuse the tea. Leave to infuse for as long as you want according to your taste. We recommend infusing for 3-4 minutes to reveal the full flavors of the black tea!
Step 2: heating and frothing the milk
Pour the milk into a saucepan and heat it over a low flame to avoid burning it. When it starts to steam, turn off the heat. To obtain a creamy froth, you can use a milk frother, which you can buy in stores and online.
Step 3: pouring the milk
Slowly add the milk into the mug containing your tea until it is almost full. The trick is to pour it in while tilting the saucepan to retain as much froth as possible! After adding the milk, you can spoon the remaining froth on top of your blend.
Step 4: spicing up your latte
Let your creativity run wild and decorate your latte. A pinch of turmeric, a dusting of chocolate around the rim, or even a cinnamon stick placed in the mug. For even more indulgence, you can also add a drop of honey.
And that's it! Your chai latte is finally ready to be enjoyed.
Make yourself comfortable on your sofa, stick on your favorite Spotify playlist, and dream of vacations in exotic countries.
Bonus: why not make a chai latte with a twist?
The chai latte recipe can of course be adapted to your tastes. If you are lactose intolerant, choose an alternative such as soy milk or vanilla almond milk. Plant-based milks can be used to naturally flavor and sweeten your chai.
Chai Latte or Matcha Latte?
It has to be said that not everyone loves spices. But for a drink as trendy and comforting as Chai Latte, you can try a Matcha Latte.
We can show you how to prepare your matcha. And to make a latte version, simply follow the same recipe for the chai.
Once upon a Chai
The word "chai" is another word to say "tea" in Hindi. Chai was originally a tea grown in India, where it was initially consumed as a medicinal remedy for its antioxidant and anti-inflammatory properties. There are countless different recipes across the Indian regions, and milk was later added to provide a light creaminess.
So, what is Chai Latte? Chai is a bit like the cousin of the cappuccino. Simply replace the coffee with a spiced black tea, and the chocolate powder with cinnamon, and you have an indulgent Chai Latte! It's delicious, it fills the room with the fragrance of cinnamon, and its flavors gently combine on the palate with spices such as pepper, ginger or cardamom in the black tea… Needless to say, we love it!
Chai Latte is THE leading hot drink in India, renowned for its invigorating properties. However, people across the world enjoy chai latte to take away as they wander through their favorite neighborhoods, or as part of Afternoon Tea in luxury tearooms.
It may be hundreds of years old, but chai has been revisited to create a vast number of highly modern versions. Today, a chai latte can be enjoyed with a shot of espresso, iced, or even in cocktails such as the Chai Latte Martini.
We did say we were taking you on an adventure!
Chai and its properties
Chai tea was originally consumed as a medicinal remedy because it has so many properties. The antioxidant and anti-inflammatory properties of chai are well established. However, chai is also an excellent choice during the winter as it may help reinforce our immune system.
What's more, as it is made up of spices such as cinnamon and ginger, Chai tea can help with digestion. Cinnamon is known to help relieve stomach aches, nausea and vomiting, while cloves and black pepper stimulate the digestive process.
A chai tea for dessert after lunch is therefore an excellent idea!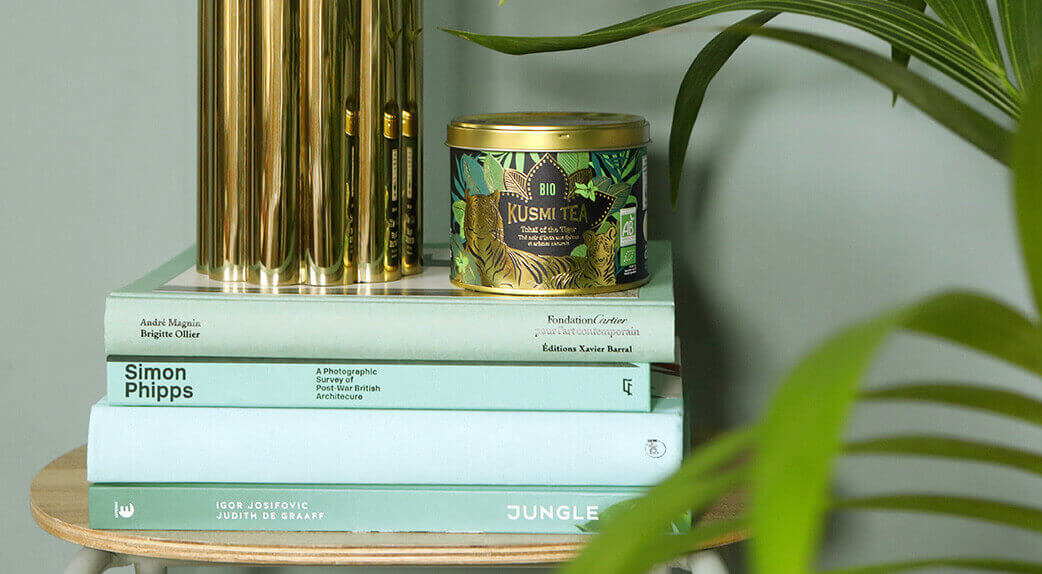 The Top 4 black teas by Kusmi
When making a Chai Latte, you first have to choose your spiced tea. At Kusmi, you can choose from several blends when preparing your Chai Latte.
Kashmir Tchaï, a black tea topped with a blend of spices
At Kusmi, the Kashmir Tchaï is probably one of the oldest of the group. This spiced black tea is in fact one of our first blends! It was most likely invented at a time when convoys of camels would cross Asia and enter Russia by land. If you want to make the most authentic Chai Latte, our Kashmir Tchaï will really make a difference as this classic is comprised of the traditional spices and plants usually associated with Chai: cardamom, cinnamon, ginger, cloves and a hint of bay leaf.
Tchaï of the Tiger, an organic spiced black tea
Tchaï of the Tiger is our organic spiced black tea and perfect for making your spiced preparations. This organic black tea stands out thanks to its blend of spices, featuring ginger, cardamom, and cinnamon, along with pink and black peppers. These organic spices give the blend an astonishing balance of strength and sweetness.
This black spiced tea is our first organic recipe in collaboration with WWF, which helps protect wild tigers, a species threatened with extinction and an iconic animal in tea producing regions.
Prince Wladimir, a black tea flavored with citrus, vanilla, and spices
Do you want to vary the pleasure? You can also make Chai Latte with the iconic Prince Vladimir, a tea with notes of citrus and vanilla. This iconic Russian tea by Kusmi is one of our many Earl Grey teas.
Sweet Love, a black tea with exciting notes of spices, guarana, licorice, and pink pepper.
Sweet Love is an invitation to awaken all the senses with its blend of spices, guarana, licorice and pink pepper.
So, which spiced blend will you choose to make your own Chai Latte?